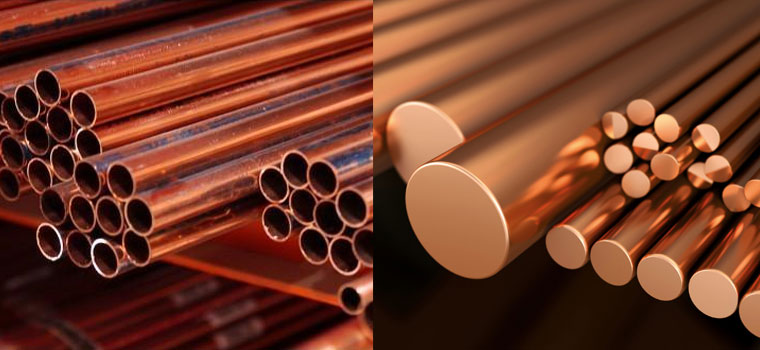 Various Types of Copper Alloys, their Advantages and Application.
Copper Alloy is one of the most commonly used alloys in various industries. Copper Pipes are widely used in industries for transmissions of fluid or gasses through it. Carbon Alloys Sheets which are highly malleable and can have good machining properties makes them useful in many applications. Copper Round Bars and Rods of various types are used across wide sectors of industries for its durability and reliability. 
We have Copper Alloys of various types
1. Copper Alloy with Brass C11000, C66400, C69800 : This alloy has zinc as the principal alloying element. Along with Zinc, Brass constitutes 38 to 40 % along with tin brass of 0.2 to 3 %. C11000 Alloy has good strength and ductility. Brass comes in a variety of colors, ranging from red to bright yellow, depending on the quantity of zinc in the alloy. Brass is well-known for its ease of drawing, excellent cold-worked strength, and corrosion resistance
2. Copper Nickel Alloy: This alloy has a composition of Iron, Nickel, Chromium, Niobium and Manganese all in a measured quantity, ranging from 2% – 30%. It is highly used in applications where resistance to corrosion, pitting and stress corrosion cracking. It also prevents oxidation from seawater. 
3. Copper C10100: It is also known as an oxygen free copper alloy. This alloy has very good electrical conductivity. It is most commonly used Electrical switchgear, circuit breakers, and resistance welding devices. Oxygen-free copper alloys, are made by melting cathode copper in low hydrogen, reducing conditions, without the addition of a deoxidising agent. 
4. C36000 Nickel Aluminum and Bronze: The material is used in applications where higher strength is required like heavy equipment, aerospace, etc. These Alloys have superior mechanical properties and are resistant to various corrosive media. 
Some of the common advantages of Copper Pipes, Tubes, Bars & Rods are:
Corrosion resistant.
Ductility.
Ease of installation.
Thermal conductivity.
Electrical conductivity
Economical.
Copper is formable.
Durability.
All our Copper Pipes, Tubes, Round Bars and Rods are used in various applications and industries for example Copper Pipes and Tubes are used in Underground water and gas conveying services, heating system, Water distribution system, ect. Copper Bars & Rods are used in automotive, chemical processing, machinery manufacturing, construction, etc. Copper Rods and Bars resisting and durability properties makes it applicable in Construction, structural use, energy and power generation, electrical and many more.