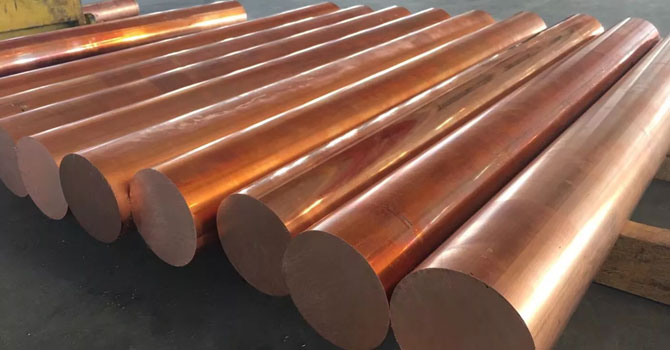 What are the different copper grades?
Copper is an malleable, ductile and soft metal widely used by various industries due to its good conductivity of heat and electrical. Copper is also used in the production of Pipes, Tubes, Bars and Rods used in industries.
Types of Copper Grades available with us are as follows
Oxygen Free Copper:
Oxygen Free Copper (OFC) is best used in industries where pure copper is required. It has high conductivity and low volatility. Copper present in OFC is averaged around 99.9%. These Alloys are produced by melting and pouring copper in the presence of carbon or carbonaceous gasses so the oxygen can be absorbed. Copper Pipes & Tube and Bars & Rods are manufactured by induction melting prime-quality cathode copper under no oxidizing conditions produced by a granulated graphite bath covering and a protective reducing atmosphere that is low in hydrogen. Oxygen Free Copper UNS designation is C10100 to C10200. Oxygen Free Copper pipes, tubes, rods and bars are used in Industries where temperature is on higher side and where the increased conductivity is believed to improve low-frequency transmission 
Free Machining Copper:
Free-machining coppers have sulfur and telluride added to increase its machinability. About 0.5% of these elements will be added. The addition of sulfur to the copper creates Cu2S copper sulfide within the microstructure that acts as a chip breaker and forms the basis of the free machining capacity. Free-machining copper containing sulfur falls under the UNS C14700 designation while copper containing telluride will have the C14500 rating. Free machining coppers will be used to create gas welding nozzles, machined electrical components, Cable glands and fasteners and the tips of soldering irons as well as torches
Electrolytic Copper:
Electrolytic tough pitch copper C11000 is made from cathode copper, that is, copper that has been refined electrolytically. It has high electrical conductivity, in excess of 100% IACS. C11000 has less than 50 ppm total metallic impurities, including sulfur. It has the same oxygen content as C12500, but differs in sulfur content and in over-all purity. C11000 is the most common of all the electrical copper grades. We manufacture Copper Pipes & Tube, Copper Bars & Rods using this Copper. These Pipes, Tubes, Bars are used in electrical, light industry, machinery manufacturing, construction industry, national defense industry and few more industries. 
Pure Copper:
Pure Copper is very malleable, soft and ductile. Composition of copper in this grade is 99.3 % , 0.7% of the composition is filled with other impurities to increase the stiffness. Copper pipe, tubes and rods are suitable for plumbing, boiler feed lines, refrigeration and for similar purposes. The amount and type of alloys and additives will vary as the diluted coppers will be given a UNS number from C10100 to C13000 based on what elements are added and its impurity levels.