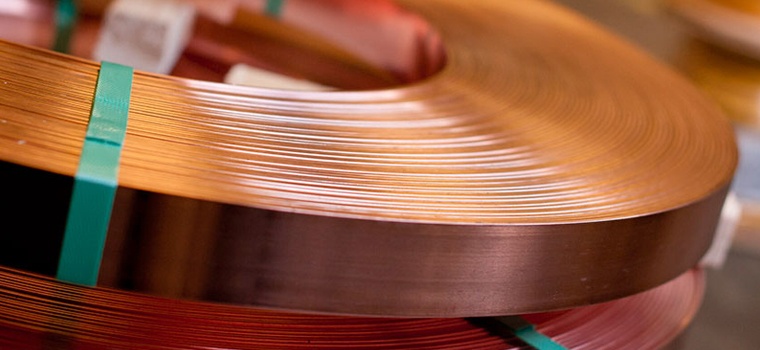 Copper Strips Production and Applications
Numerous applications require copper as a component. Copper strips are utilised practically everywhere, whether it be in building, electrical wiring, interior design, beautiful art, or the submersible pump business. The dual characteristics of the strip—high thermal conductivity and excellent electrical conductivity—are the primary cause of its widespread use. In fact, that is the main reason for their ever-growing market in the electrical sector. The most significant of these copper strips' many positive characteristics is their malleability. In fact, this is the reason why producers of copper strips may easily offer copper in a variety of shapes.
Production Procedure
A copper strip maker starts with molten copper to create copper strip. The first step is the removal of contaminants. Slab, bloom, and billet are created after impurities are eliminated. These are formed in finishing mills, and the strips are produced as the last stage. Wires, plates, foils, copper sheets, and various other sorts of profiles are actually made by the makers. In actuality, their thickness varies among them. They range anywhere between 0.8″ and 7.0″. A maker of copper strips makes strips of various widths to suit the requirements of various clients. The phrase "precise copper strip" has been coined for this reason.
Copper-Alloys
Copper strips are typically described as being in the form of pure metal. The addition of additional elements into an alloy is a common manufacturing practise. Along with greater strength, copper alloys have improved corrosion resistance. Brass is one such example; it is created when copper and zinc are combined. Not only are brass materials more resistant to corrosion, but they are also stronger. Bronze is a common copper alloy that is created when copper and tin are combined. It becomes difficult and difficult. Many more copper alloy goods, including strips of cupro-nickel, copper-clad steel, copper-clad aluminum, among others, are produced by a manufacturer of copper strips.
Copper Strips Applications
The major two factors influencing the extensive use of copper strips in a variety of sectors are their conductivity and resistance to corrosion.
Copper strips are used in the construction sector to shield exterior constructions from the weather, such as dome, roofing, flashings, spires, doors, and rain gutters.
The automotive industry also uses copper wires. The powertrain of electric cars are where the principal applications may be observed. It is employed because both performance and efficiency appear to improve, and electrical energy waste decreases. Copper strips are actually more cost-effective than other high-quality power conductors.
Copper is utilised in heat sinks and heat exchangers because of its inherent qualities and affordability. Compared to aluminium, copper has a superior ability to dissipate heat.